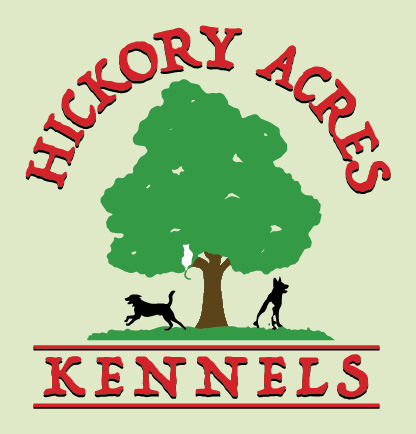 10770 E. 300 N. Sheridan, IN 46069

Dog Boarding
While staying at Hickory Acres, your pup will have its own private space to play and relax in. Our facility features connected indoor/outdoor runs that are 5×5 indoors and 5×20 outdoors. During our scheduled let-out periods, your pet is let out into the outdoor portion of their run to exercise, socialize and play while our staff ensures all guests have fresh water, clean bedding, and food at meal times.
Once back indoors, our staff sanitizes the outdoor runs so it is clean and ready for the next let-out.
Our kennel features several amenities that will make your pet's stay great!
Dog and cat boarding is available for short and long-term boarding. *2-night minimum stay required*
All boarders have individually connected indoor/outdoor runs.
Facilities are temperature-controlled year-round.
Suites are large enough for families of 2-3 pets to share a space, depending on the breed.
Limited quarters are available for elderly dogs and those with special needs.
A discounted boarding rate is available for families boarding two or more pets in the same run.
All pets receive plenty of attention, exercise, fun, and fresh air in a beautiful country setting.
The boarding price includes one-on-one playtime with staff in one of several large grassy play areas.
Two professional groomers are on site Monday – Friday to groom all breeds.
A laundry service on-site to clean soiled toys and bedding before returning home.
Medications are administered per your instructions for a nominal fee.
Boarding Hours: Pickup and Drop Off
Monday – Saturday: 8:00 AM – 5:45 PM; Gate closes at 6:00 PM.
Sundays & All Major Holidays: Closed
Please review our Frequently Asked Questions page for pricing and vaccination requirements.
Cat Boarding
Your feline friends also need a place to unwind while you are away!

Our cattery is temperature controlled year-round and is in a separate building from our kennel to ensure all cats have a safe, peaceful, and relaxing environment during their stay.

We provide all the essentials your cat needs to feel at home during their visit, including a litter box, fresh litter, water, food and water bowls, and bedding. Bedding and toys from home are welcome, but we ask that they be machine washable.

Each boarder's accommodation measures 4 feet long x 2.5 feet wide x 2 feet high.

*Please bring your cat's food from home to avoid dietary changes during their stay*

Copyright 2023 • Hickory Acres Kennels • All rights reserved. | Contact Us